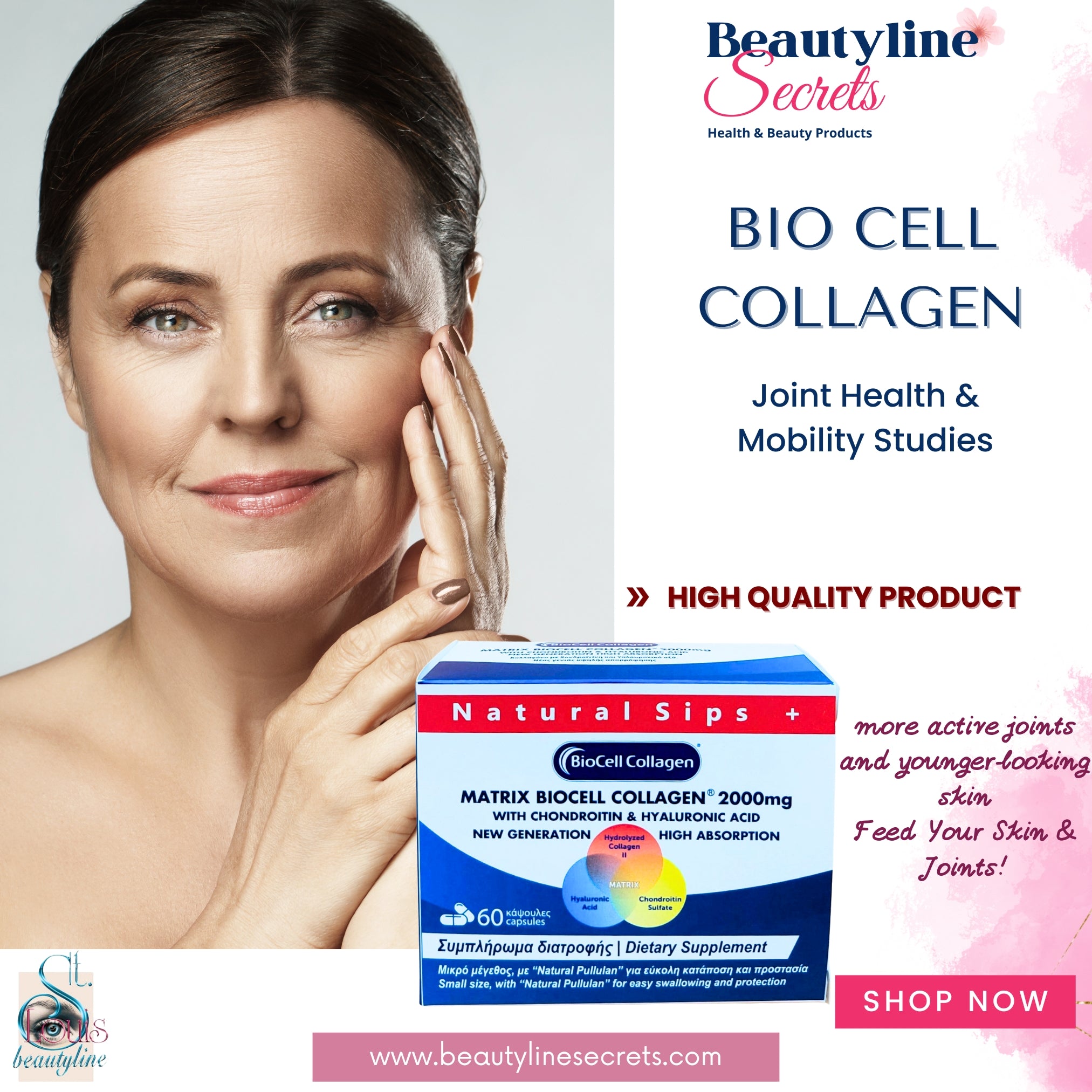 Bio Cell Collagen Natural Sips+ 60 Caps
More Active Joints and Younger-Looking Skin
Feed Your Skin & Joints!
What is BioCell Collagen®?
BioCell Collagen® is a clinically studied dietary ingredient composed of naturally-occurring hydrolyzed collagen type II peptides, chondroitin sulfate, hyaluronic acid. BioCell's unique matrix is not a blend of individual ingredients. Clinical studies confirm that BioCell Collagen® promotes active joints, youthful-looking skin, and healthy connective tissues. Various research studies, including seven human clinical trials, support the safety, efficacy, and bioavailability of BioCell Collagen®. BioCell Collagen® is patented and unlike other collagen and hyaluronic acid ingredients on the market. Look for the BioCell Collagen® trademark logo of authenticity proudly displayed on the labels of finished products that contain BioCell Collagen®.
It is important to note that not all collagen and hyaluronic acid ingredients are created equal.
There are several collagen and hyaluronic acid supplements available in the market that lack clinical evidence and that have a very different molecular makeup than BioCell Collagen®. BioCell's unique composition is patented and has undergone human clinical trials proving its efficacy. BioCell Collagen® utilizes a patented Bio-Optimization™ process, which ensures remarkable bioavailability as well as rapid absorption into the body. The synergy of biomolecules found in BioCell Collagen ®'s unique matrix offers multi-dimensional nutritional support for the health of connective tissues of the skin, joint, tendon, and ligament.*



BioCell Collagen® Joint Health & Mobility Studies
BioCell Collagen® has a comprehensive approach to joint health, one that not only targets cartilage, but the related tendons, ligaments, and synovial fluid. Glucosamine and chondroitin formulations were the standard of care in joint health for more than two decades with limited success. The big question on the mind of dieticians and health care practitioners today is what's next in joint health. BioCell Collagen® offers significant advantages with its advanced, unique composition, which mirrors human articular cartilage for the comprehensive maintenance of healthy joint function. BioCell Collagen®'s uniquely differentiated properties provide broader, more complete, and superior nutritional support. Results from human clinical trials on 185 men and women who took 2000 mg daily showed BioCell Collagen® safely improved joint comfort, mobility, and quality of life.*
Joint Health Benefits: BioCell Collagen® is clinically shown to:
• Promote joint comfort & mobility*
• Enhance post-exercise recovery*
• Support skin & joint collagens (type I, II & III)*
• Help stimulate cartilage renewal*
• Promote tendon and ligament connective tissue recovery following intense exercise*
•
Clinically Proven Results:

BioCell Collagen® offers a patented, comprehensive solution for healthy joints through multiple mechanisms of action.
Clinically Proven in Randomized Double Blind Placebo Controlled Human Clinical Trials
Sports Nutrition Study: BioCell Collagen® Post-Workout Recovery
BioCell Collagen® was tested in a pilot randomized, double-blind placebo-controlled study in recreationally active people. Participants took three grams of BioCell Collagen® over six weeks before an upper-body bench press challenge. Participants experienced favorable improvements in stress resilience and recovery after bouts of intense resistance exercise without any reported side effects (Lopez et al., 2014).*
A cartilage mirror: replenishing structural components essential for healthy joints
BioCell Collagen® provides the building blocks of macromolecular collagen, HA, and chondroitin sulfate essential for the health of cartilage, synovial fluid, and tendon and ligament connective tissue.


BioCell Collagen® Skin Beauty-from-Within Studies
BioCell Collagen®
Clinically shown to:
• Significantly reduces facial lines and wrinkles*
• Reduce crow's feet*
• Improve skin elasticity*
• Reduce skin dryness*
• Increase skin collagen & hyaluronic acid*


Clinically Tested
1. In a 12-week study, women who took 1000 mg (1 g) of BioCell Collagen daily had 76% less dryness/scaling, and their fine lines and wrinkles had reduced by 13.2% when compared to baseline levels. Additionally, both collagen levels and microcirculation were significantly improved. The outcome of this study was published in the Clinical Interventions in Aging journal
2. In one of the most substantial studies of a skin health supplement, 1000 mg of BioCell Collagen® was found to visibly reduce common signs of skin aging, including lines and wrinkles, within 12 weeks of daily use. The findings reported in this randomized, double-blind, placebo-controlled clinical trial included a measurable improvement in signs of aging in women, represented by increased skin elasticity, reduction of crow's feet, and improvement in depth and number of fine lines and wrinkles. The full findings of the peer-reviewed study are published in the journal of Alternative Therapies in Health and Medicine. (2019). )
BioCell Collagen® is Uniquely Bioavailable and Bioactive

Research suggests that the ingestion of BioCell Collagen® stimulates chondrocytes (cartilage producing cells) and fibroblasts (skin producing cells) in the renewal of cartilage and skin. Moreover, BioCell Collagen® was shown to have a concentration-dependent inhibition of hyaluronidase. This enzyme degrades hyaluronic acid, which can contribute to signs of aging on the skin and loss of viscoelasticity of joint synovial fluid. BioCell Collagen® also attenuates deleterious changes in biomarkers including creatine kinase, lactate dehydrogenase, and C-reactive protein adding further clues into its mechanism of action.*

BioCell Collagen® Hyaluronic Acid Absorption Study
Ingredients:
BioCell Collagen
Hydrolysed Type II collagen
Chondroitin
Hyaluronic Acid
Vitamin C
Zinc

Use:
Dosage 3 capsules per day one after each meal
* If you are pregnant or suffer from any medical condition consult your healthcare provider
👉
All Nutritional Supplements Are Manufactured In Accordance With Strict European Directives And Regulations & IS022000 And Are Approved By The Cyprus Ministry Of Health
Receiving the "Arch of Europe Award"
The International Organization BID (Business Initiative Directions) based on the facts by IAE (International Arch of Europe Award for Quality TQM 100), granted the company the Gold Award Arch of Europe which is the International award for Quality.
Receiving an Award from the President of Cyprus
Youtube: