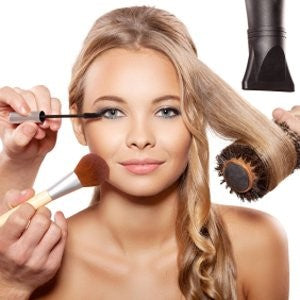 Beauty Quick Fixes That Every Woman Should Know
Morning time is when the rush begins. It is hectic but despite the fact that you do not have time for your entire beauty routine, you cannot skip them. This is the reason why every woman should know some beauty quick fixes so that she can skip some of the routine and still look her best with none being wiser.
Use Dry Shampoo
By using a dry shampoo, you will not need to blow dry your hair or spend a lot of time in the shower.
Hair care is essential to keep the scalp healthy. It is essential to keep clean it of all the dirt and grime that gets accumulated. But unless your hair is very oily, you do not have to shampoo it daily. If your hair is not oily and you wash it only for volume, then try this tip instead. Tie your hair in a high pony tail. This adds volume to hair. Also, you can use a dry shampoo as it soaks up oil from hair and leaves hair fresh and shiny.
Cleanse Your Face with Wipes
When you are away from water and the sink, use wet wipes for face. They are good cleansers and cleanse the face of grime and oil. You will look fresh within minutes. These are especially good for the morning routine when you are in a hurry.
Get an Easy-To-Maintain Haircut
Ideally, hair length between shoulders and chin is easy to manage.
Hairstyling takes the most time in the morning. Save time by getting an easy-to-maintain haircut that can be styled without spending too much time on it. Get a style so that when you wash your hair, it dries fast and you can also tie it back into a ponytail.
Use Products That Minimize Makeup
Add a dab of lip gloss to your cheeks instead of the blusher for shiny cheeks.
When you are in a hurry, you have to skip some makeup so that you can leave your house on time. Rather than skip any beauty step, it would be wiser to get beauty products that multi-task. For example, buy a tinted moisturizer that can also be used as a sunscreen cum moisturizer or get a lip gloss tinted with your favorite color.
 Quick Eye Makeup Tips
Use a Cotton Q tip for a cleaner look.
You will not be able to apply eyeliner with precision when you are rushed for time. Rather than spoil your look with a crooked line, skip your eyeliner routine and replace it with two coats of mascara, keeping the mascara wand as close to the lids as possible to make it look like eyeliner.
Dry Your Nails
Dipping your nails in ice-water for about 5 minutes ensures that the nail color does not come off.
If you have just applied nail color, then you have to dry it before you leave home. Cheat a little and don't apply a single thick coat. Instead, apply a single thin layer that will dry within 2 minutes and then apply a second thin coat of nail color. They will dry off quickly and look good too.
Know what make up you need in the morning or during the day. As you experiment, you will begin to find out more beauty fixes that work for you.
Check our Blog Often for more FREE Beauty Tips.
We do care for our customers!!!